the-helge-project
My McFate/Mikkelson spin of the Idris Project, https://www.idrisproject.com/. I would like to acknowledge Steve Baker for his pioneering work here, and thank him sincerely for sharing. Thank you, Steve!
Addressing
The project has been deployed on DigitalOcean's "App Platform" at https://the-helge-project-lxjww.ondigitalocean.app/. Updates pushed to the "main" branch here are automatically deployed at that address.
An alias of https://helge.mcfate.family, the preferred address, now resolves to this App!
Helge
Similar to the Idris Project, the name here comes from my (maternal) grandfather, Henry (Helge) Mikkelson. According to Wikipedia, "The name Helge is derived from Proto-Norse Hailaga with its original meaning being dedicated to the gods." When passing through Helgeland in Norway in June of 2019, I asked about the name at an information kiosk and the attendant their equated the term's meaing to holy or blessed.
Mackenzie's Project
While my name is attached to this repository and project, it's really intended to be a vehicle for my daughter, Mackenzie Grace McFate, to expand her IT repatorie and keep the family's history alive on the web. Ultimately you'll find this site being auto-updated from .ged exports of McFate/Mikkelson family tree data collected by my late sister, Marlene McFate Burkheimer. The site will be a manifestation of data generated using Python and will appear as it does now, in a Hugo static web site.
My Ancestry
Since this project is moving along VERY slowly, I thought I would share a bit of my ancestry here in an interesting format.
From Gramps
My sister, Marlene, left me with lots of her family research. The most easily accessible portions of it have been transferred from GEDCOM format into Gramps. From there I did a quick screen shot of my family tree, direct ancestors only. A few of my 23&Me DNA relatives have expressed interest in identifying our common ancestors, so here's a very limited depiction of what I know from my sister's research: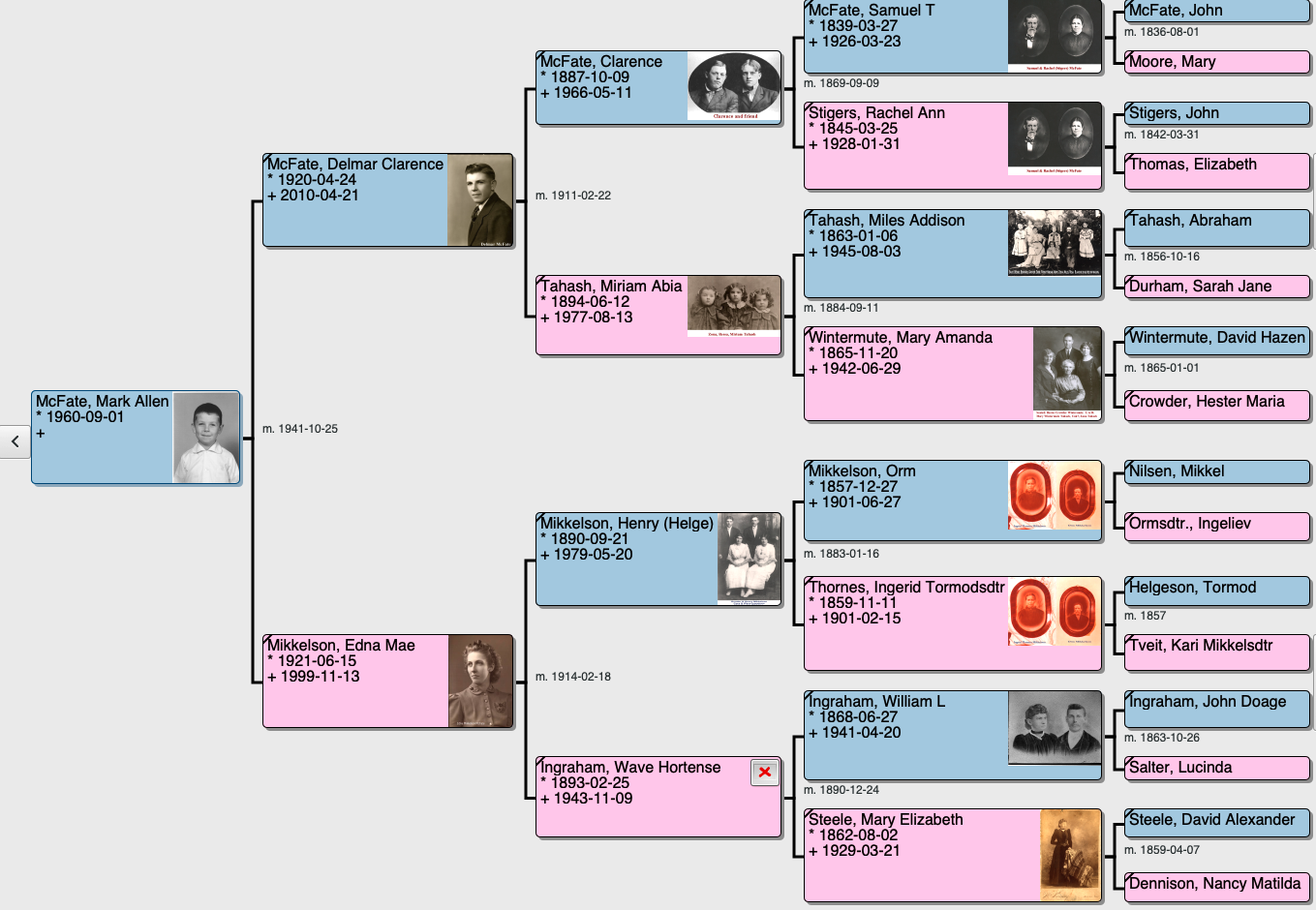 Mark's ancestry based on Marlene's research organized and exported using Gramps. ©
From 23&Me
Unfortunately, I can't display all of it directly on this site due to security concerns, but you are welcome to use this link to 23&Me* if you would like to view my complete 23&Me Ancestry Composition © report. Static portions of the report, captured from 23&Me ©, are reporoduced below.
* Sign-in or free registration at 23&Me © will be required to view my complete data.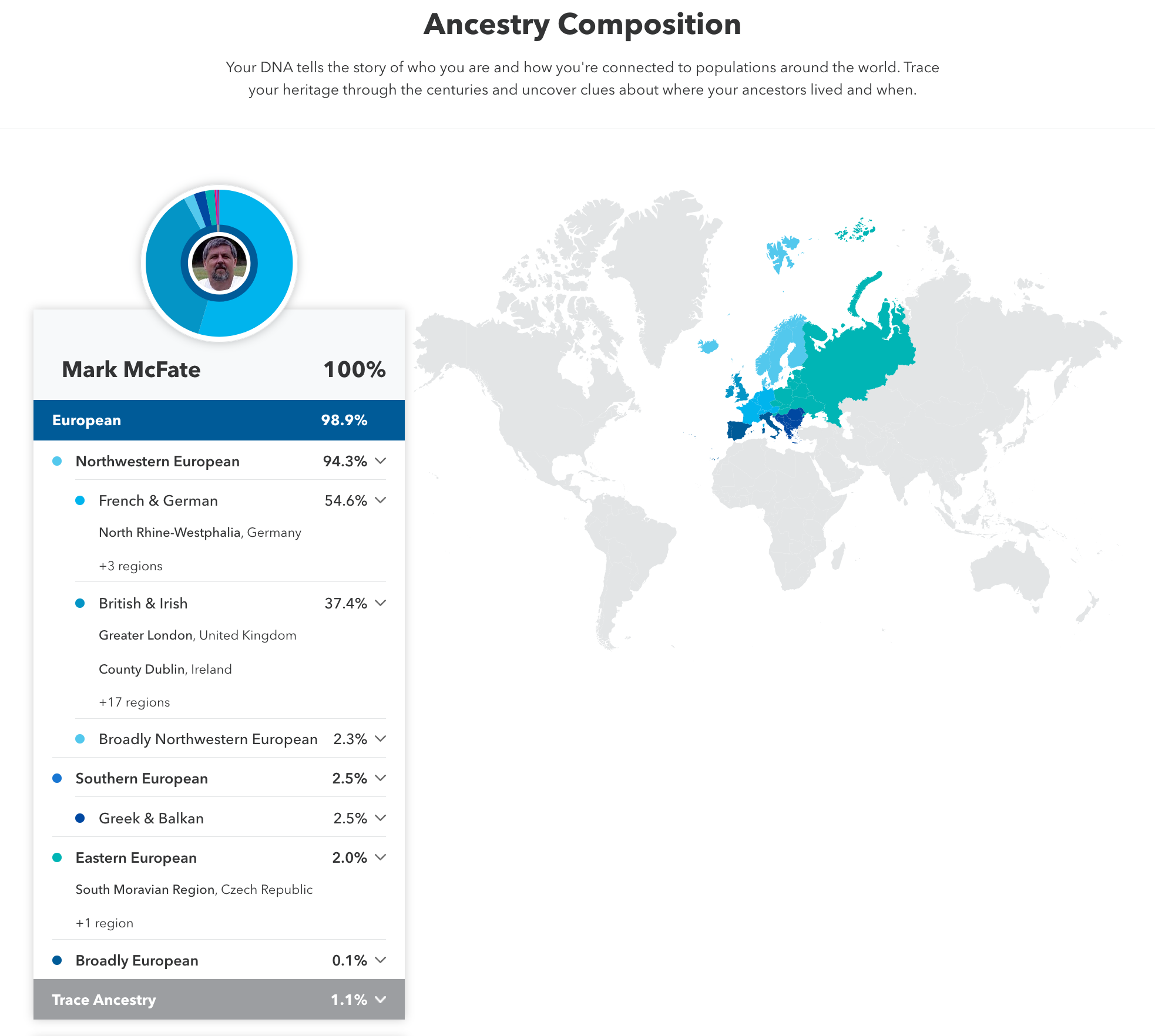 Mark's 23&Me Ancestry Composition graphic. 23andMe ©

Mark's 23&Me Ancestry Timeline graphic. 23&Me ©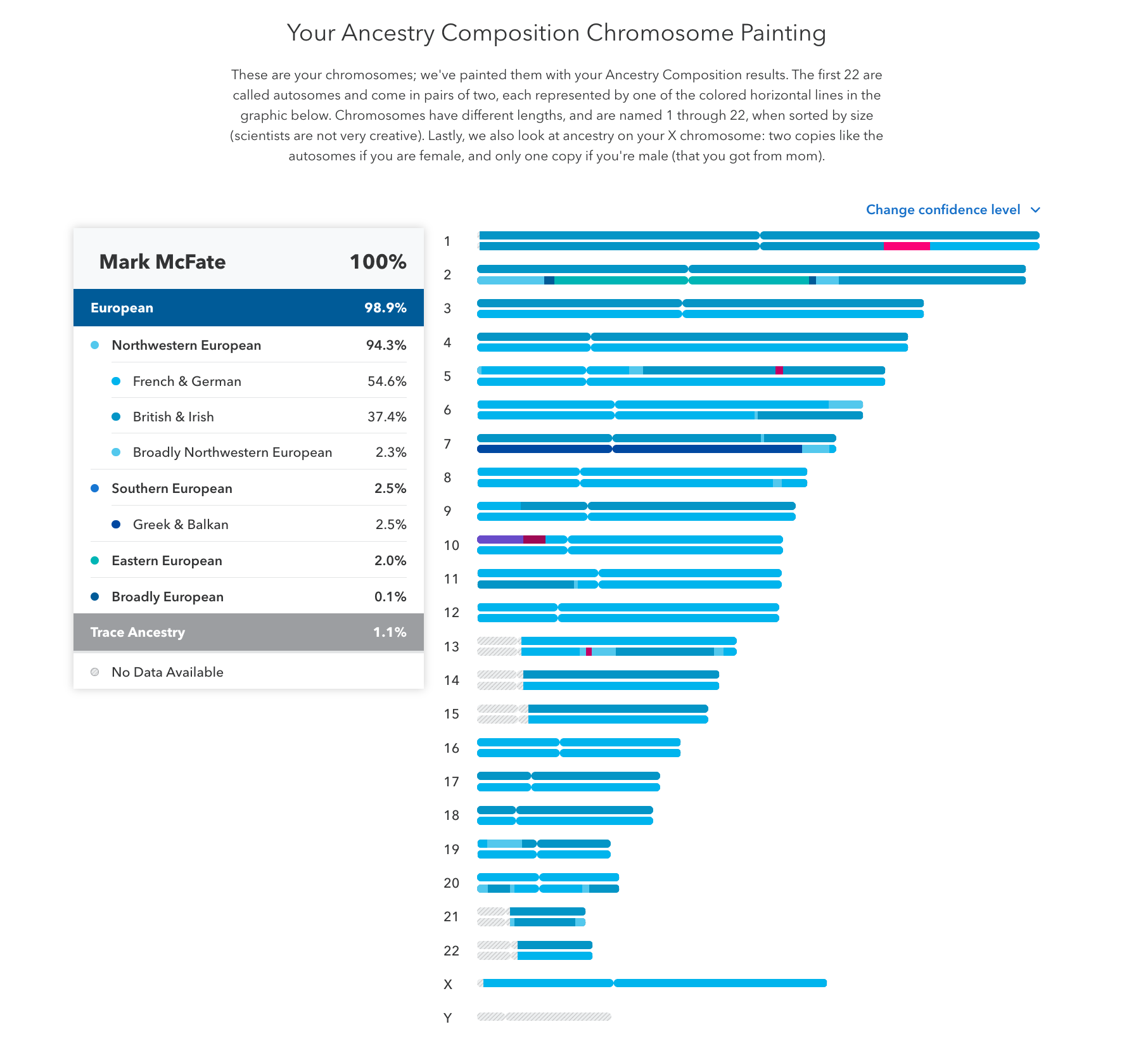 Mark's 23&Me Ancestry Chromosome Painting graphic. 23&Me ©